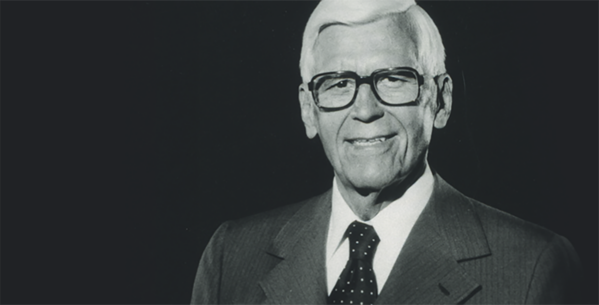 Mission

Engaged Citizens. Thriving Communities.

Vision

To create opportunities for people to live in and help build strong and vibrant communities, achieve economic success, and enjoy a high quality of life.
Next Section
Peter Kiewit Foundation opened its doors in 1979 with a $150 million endowment. The foundation is a private, independent, philanthropic trust that is not legally or administratively affiliated with the operating companies that also bear Mr. Kiewit's name.
About Peter Kiewit Foundation
Mr. Kiewit believed that there was no better place to live in the United States than Omaha. He attributed his success to the hardworking people of Nebraska and was determined to return his wealth and good fortune to its communities. Before he died, Mr. Kiewit directed that his personal estate be used to establish Peter Kiewit Foundation.
The foundation supports efforts that align with our strategic impact areas, primarily in the Omaha metro area and across the state of Nebraska. We also make grants in that portion of Western Iowa within 100 miles of Omaha, as well as other geographies of interest to Mr. Kiewit.
Mr. Kiewit wanted to invest in organizations and communities that demonstrate the ability and desire to help themselves. Mr. Kiewit frequently referred to a three-legged stool metaphor, with funds from the applicant and its immediate support group as one leg, funds from the larger community as the second leg, and funds from philanthropy as the third leg. He believed that this balanced support ensured "ownership" of the project by those who would need to sustain it into the future.
Mr. Kiewit's Story
September 12, 1900
Peter Kiewit Is Born in Omaha
Peter was the fifth and youngest son of Peter Kiewit, Sr., a bricklayer of Dutch descent, and Anna Kiewit (ne'e Schelicher), an immigrant from Germany. Sixteen years earlier, Peter's father and uncle had established Kiewit Brothers, an Omaha, Nebraska masonry business.
1918 / 1919
Peter Kiewit Graduates from Omaha Central High School
Peter graduated from Omaha Central High School in 1918, and then attended Dartmouth. After one year at the college, he returned home to Omaha, eager to enter the family contracting business.
1924
The Family Business Lands First Million-Dollar Contract
Peter Kiewit, who took his father's advice to "have a trade," was very hard-working and helped keep the business afloat post-World War I, despite the economic recession. In 1924, the family business celebrated its 40th anniversary and landed its first million-dollar contract: the Livestock Exchange Building in Omaha. Within months, just as Pete turned 24, the company undertook its second million-dollar project: the still-standing Burlington Railroad depot in Lincoln.
1930
Peter Kiewit Contracts Phlebitis
Peter lived with pain from this disease for years, until a treatment was finally developed. This experience incited in him a lifelong interest in health and wellness.
1931
Peter Kiewit Forms Peter Kiewit Sons' Co.
As the company expanded, Peter took on more responsibility. His brother Ralph commented, "Pete had a fantastic capability to organize the details." Around 1930, many of Peter's family members began leaving the business, and it appeared that the Kiewit legacy — nearly 50 years in the making — was coming to an end. The next year, Peter dissolved the family firm and formed a new company, Peter Kiewit Sons' Co. He would remain president of the company until 1969, and chairman of the board until his death in 1979.
1939
Kiewit Company Wins $7.5 Million Government Contract
Peter Kiewit's hard work and determination were key to the business surviving The Great Depression. In 1939, as America prepared for war, the Kiewit company won a $7.5 million contract to build a military base at Fort Lewis, WA. Shortly after the project began, and with very little warning, the assignment doubled in size. The 90-day timeframe, however, did not change. With Peter at the helm, the base was completed on time. Reflecting on this project later in life, Peter said, "I think our company succeeded primarily because we recognized, and were prepared to take advantage of, the opportunities that existed, even during times of adversity."
1944
Peter Kiewit Sons' Holds First Annual Meeting
While Peter constantly strove to educate himself and develop better business practices, he similarly pushed his employees to learn and grow. His process of building better men and women through company training sessions formally began in 1944 with the first annual meeting of Peter Kiewit Sons'. Peter said, "Better trained men will perform more and work better and will do so in a safer manner. They will also become better citizens. So, by helping ourselves, we can at the same time help the communities in which we are working. In this way, we become builders. Not just builders of roads, dams and hospitals, but also builders of men."
1949
Peter Purchases Pawnee Springs Ranch
Peter already owned the X-Bar-X ranch when, in 1949, he purchased his second ranch — Pawnee Springs Ranch — near North Platte, Nebraska. While Pawnee Springs was strictly business — a cattle ranch — the X-Bar-X was a place he went to get away. In his down time, Peter enjoyed horseback riding and fishing.
1951
PKS is Selected to Build Air Base and Anti-Aircraft Missile System
Peter Kiewit never backed down from a challenge. As the Cold War heated up and the nation needed more protection against a possible attack over the North Pole, PKS was selected to build an air base and anti-aircraft missile system at the high Arctic site of Thule, Greenland. The project required the hiring, training, and transporting of more than 5,000 men and countless shiploads of equipment, material and food well above the Arctic Circle. Upon landing, the site was equipped with only a temporary air strip, but 90 days later a 2,400 man city, a 10,000 foot runway and two hangars were in operation.
1954
Peter Serves on the Ak-Sar-Ben Board of Governors
Because of his commitment to his community, Peter Kiewit served on the Ak-Sar-Ben board of governors for 16 years, beginning in 1954. Determined to help the Ak-Sar-Ben Racetrack become one of the country's most attractive and successful tracks in the country, he worked as racing chairman for seven of those 16 years.
1959
Peter is Crowned King Ak-Sar-Ben LXV
In Omaha, as the city's downtown was waning, Peter became instrumental in revitalizing the area. He served on the Omaha Development Council and the Omaha Industrial Foundation, and in 1959 was crowned King Ak-Sar-Ben LXV. He was noted as "the most influential Omahan of his time, the ultimate mover and shaker."
1962
Peter Kiewit Purchases World Publishing Company
Peter Kiewit, who normally shied away from publicity, surprised many observers by purchasing the World Publishing Company, publisher of The Omaha World-Herald. Vying with newspaper magnate Samuel I. Newhouse, Kiewit sought to keep ownership of the newspaper in Omaha. In a last-minute bid, Kiewit offered $400,000 more than Newhouse and purchased the newspaper, its production plant, television station KETV and a medical building, for $40.5 million.
1965
Peter Makes Sizeable Donation to Creighton University
Later in his life, Peter became more philanthropic and donated millions of dollars to the charities and institutions he admired. One of his first sizeable public donations went to Creighton University in 1965 for the construction of Kiewit Hall, a women's dormitory. The gift was just under $1 million, but it allowed the University to obtain additional financing for the structure.
1967
Peter Kiewit Sons' Receives Award of Honor
Recognizing Peter's focus on workplace safety, the National Safety Council awarded Peter Kiewit Sons' its highest accolade, the Award of Honor, based on the company's record of 21 million man-hours of safe work.
1967
Peter Receives Brotherhood Award
Throughout his career, Peter made it his mission to hire the best-qualified employees regardless of race, color, religion, sex, or national origin. In 1967, the National Conference of Christians and Jews recognized this by giving him the Brotherhood Award.
1968
Peter Serves on Presidential Committees
President Lyndon Johnson appointed Peter Kiewit to his Committee on Urban Rehabilitation in 1968, and one year later, Richard Nixon appointed him to the President's Advisory Council for Minority Business Enterprise.
1975
Peter Receives Distinguished Nebraskan Award
In 1975, the Nebraska Society of Washington, D.C. awarded Peter Kiewit with the Distinguished Nebraskan Award.
1976
Peter Receives Awards from Creighton, UNMC
In 1976, the Jesuit community at Creighton University awarded Peter the Manresa Medal for inspiration and enduring achievement. That same year, the University of Nebraska Medical Center presented Peter with its Distinguished Service to Medicine Award.
1978
Peter is Recognized as Creighton Honorary Founder
For only the second time in its then 100-year history, Creighton University bestowed the honor of Honorary Founder — on Peter Kiewit, in 1978.
November 2, 1979
Peter Kiewit Dies
On August 4, Peter was thrown off a horse at the X-Bar-X and broke several ribs. Follow-up x-rays revealed a malignant tumor on his left lung. Although the lung was removed, he never fully recovered. Peter Kiewit died on November 2, 1979.
1979
Peter Kiewit Foundation Opens its Doors
Many who knew him, especially those who knew him well, described Peter as a generous man. "Peter was generous to a fault," his son-in-law noted, "but you had to prove yourself worthy of that generosity." Before he died, Kiewit directed that his personal estate be used to establish a foundation to support public-purpose projects primarily in Nebraska and Western Iowa. Peter always felt that his success was a product of the hard working people of Nebraska and he wanted his wealth to be invested back into their communities. Peter Kiewit Foundation opened its doors in 1979 with a $150 million endowment. After his passing, Peter's friend, Bob Hope, shared, "He was a wonderful man who had charity in his heart morning, noon and night. He left all of us with a world that is better."
Today
Honoring His Legacy
Peter Kiewit Foundation has honored its namesake's legacy by awarding hundreds of millions of dollars in grants and scholarships since its founding. Foundation investments continue to be inspired by Mr. Kiewit's belief in the importance of hard work, individual opportunity and building community.